Vintage Macintosh Locator web-app : 68K Finder
Commemorating the 28´th Anniversary of the Macintosh on January 24, 2012, www.myoldmac.net (me) is proud to present the first vintage Macintosh Locator web-app for mobile phones: 68K Finder
Please open www.myoldmac.net/mobile/ with your mobile device, then tap "Add to Bookmarks" for easy, one-tap access. This is version 1.0 - launched January 24, 2012, please report any bugs or give me a feedback.

68K Finder Main Features
Displays 68K Macintosh collectibles on the US eBay market

Currency converter (updated several times on trade days)

Vintage Macintosh serial number decoder

Actual 68K Macintosh News (updates when loading the web-app)

Hidden Easter Egg (s)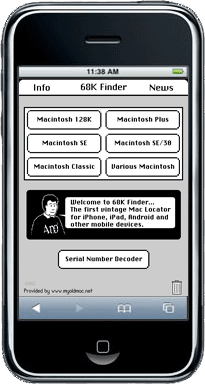 68K Finder - What is it good for ?
Find a Macintosh - made easy. I am a Macintosh collector and I find the most of my collectibles at the different ebay markets. This is no problem when I am at home, but on the road I can only access eBay via its mobile version on my iPhone. I created a tiny web-app to search for Macintosh collectibles at the most active market, namely USA. After the first simple version was finished I decided to provide it to all Macintosh collectors. I added some more features and a friendly user interface and here we go. Made by a collector for collectors. In the last week we had a beta test and the app seems to work well on iPhone, iPad, iPod Touch and Android phones. I could not check all devices, if you mention a bug - please contact me.
The Press Kit | please promote 68K Finder !
Here you can download this text and pictures in a
zip file - for free promotional use.